What Are You Seeking First?
Hello Rock Family
*Tonight's service will be with guest speaker, Brian Fenimore, starting at 6:45pm in the sanctuary.
**I promised all of you a copy of the word that we discussed last Sunday called "Divine Opportunity".  If you would like to read the word in its entirety, click on this link:  https://www.dropbox.com/s/3bh5gg9ldc9jmlr/DIVINE%20OPPORTUNITY%20Word%20for%20The%20Rock%20-%202.13.2016.pdf?dl=0
**This Sunday we are planning to have a shorter service with a focus of partnering together and going out on the streets of Monument, Castle Rock, Parker, Denver, and wherever else you are led.  Just as Jesus sent out the twelve and the seventy-two and gave them authority to overcome the power of the enemy, He is sending us out with authority.  I want to encourage you to be part of this kingdom adventure on Sunday.  God has anointed us as kings, given us His seal of ownership, and put His Spirit in us to accomplish all He has for us in Christ. (2 Cor 1:21-22)  He is looking for the laborers who will bring in the harvest…who will bring in those who are lost and do not know Jesus.  I am excited with anticipation to hear the miraculous testimonies as He backs up His word with power.
***This coming Monday thru Wednesday (June 7-9), we are calling for 3 days of corporate prayer and fasting.  You are welcome to join us on Wednesday, June 9, in the Chapel (north end of the building) from 10am 12pm for a time of prayer and worship together.  And then that Wednesday evening at 6:45pm we will join together for a time together to close out the time of prayer and fasting.
Jesus tells us in Matt 9:37 and Luke 10:2 that there is a great harvest ready, but very few laborers to do His work.  Sadly, I believe this is still true today in the body of Christ.  And much of this is due to the teachings in the church.  There are a lot of great sermons on how we can better ourselves, but the Word doesn't tell us to focus on ourselves first and then once we have gone through years of Bible studies and many hundreds of Sundays in a church building to then go and do the work of Jesus…to follow Jesus.  The Bible also doesn't tell us to make sure we have our 401k and retirement in place before we go out and share Jesus.   No!  The Bible tells us to follow Jesus immediately!  And to seek FIRST (and only) His kingdom and His righteousness and that He will then take care of everything else for us.  (Matt 6:33)  There are many, many stories of interactions with Jesus where people wanted to follow Jesus, but they couldn't give up their treasures or they had things they needed to get in place first.  That was not OK with Jesus.  (Read Matt 8:18-22 & Matt 19:16-22)  He isn't looking for those who seek first their needs…He is looking for those who will be fully committed to His work.  I want to encourage you to put the commands of Jesus first in our life.   There is a cost to this…It is our life.  But it is worth it.  Because He gives us His life and empowers us with His Spirit – for our time on earth and for eternity!
For the eyes of the Lord range throughout the earth to strengthen those whose hearts are fully committed to him.  (2 Chron 16:9)
For the eyes of the Lord are on the righteous, and His ears are attentive to their prayer. (1 Peter 3:12)
IMPORTANT SERVICE & WEEKLY INFORMATION:
WEDNESDAY NIGHT SERVICE (6/2)  6:45pm * In-Person & On-Line with Guest Speaker Brian Fenimore!
Facebook Live:  https://www.facebook.com/rockchurchco
The Rock Online Livestream:  https://www.therock.org/live/
YOUTH ~BASE CAMP (6th – 12th Grade) – WEDNESDAY NIGHT (6/2) – 7:00pm
Join us in the Student Auditorium!  Also, Summer Camp is July 22-24 and is open for registration!  CLICK HERE.   Contact Pastor Kristi at kristi@therock.org with any questions.
1st Thursday of the Month (6/3) Hot Meals & Saturday Morning (6/5) Food Bank Distribution
https://www.therock.org/foodbank/
Email Lindy@therock.org if you have any questions or would like to volunteer.
SUNDAY MORNING (6/6) PRE-SERVICE PRAYER  8:15-9:15am – *In-Person & On-line*              
ZOOM Direct Video Link:
https://us02web.zoom.us/j/85340164797?pwd=V0lmWFRRL0R6Tm56QTdRUHNoMWI3QT09
ZOOM Meeting ID: 853 4016 4797
Passcode: 1   (NOTE: The Passcode was added for security,
              but is not needed if you click on the ZOOM link above.)
              ZOOM Phone Option +12532158782,,85340164797#
SUNDAY MORNING SERVICE (6/6) 9:45am  *In-Person & On-line*
Facebook Live:  https://www.facebook.com/rockchurchco
The Rock Online Livestream:  https://www.therock.org/live/
To Him who is able to keep you from falling and to present you before His glorious presence without fault and with great joy – to the only God our Savior be glory, majesty, power and authority, through Jesus Christ our Lord, before all ages, now and forevermore!  Amen.  (Jude 1:24-25)
We love you!
Pastors Mike & Kristi and your Rock Staff family
OPPORTUNITIES TO GIVE  If you would like to give to The Rock, here are some convenient ways you can partner with us as you practice generosity – our regular tithe/giving, missions, and our compassion/food bank.  Click on the following link or graphic.  www.therock.org/give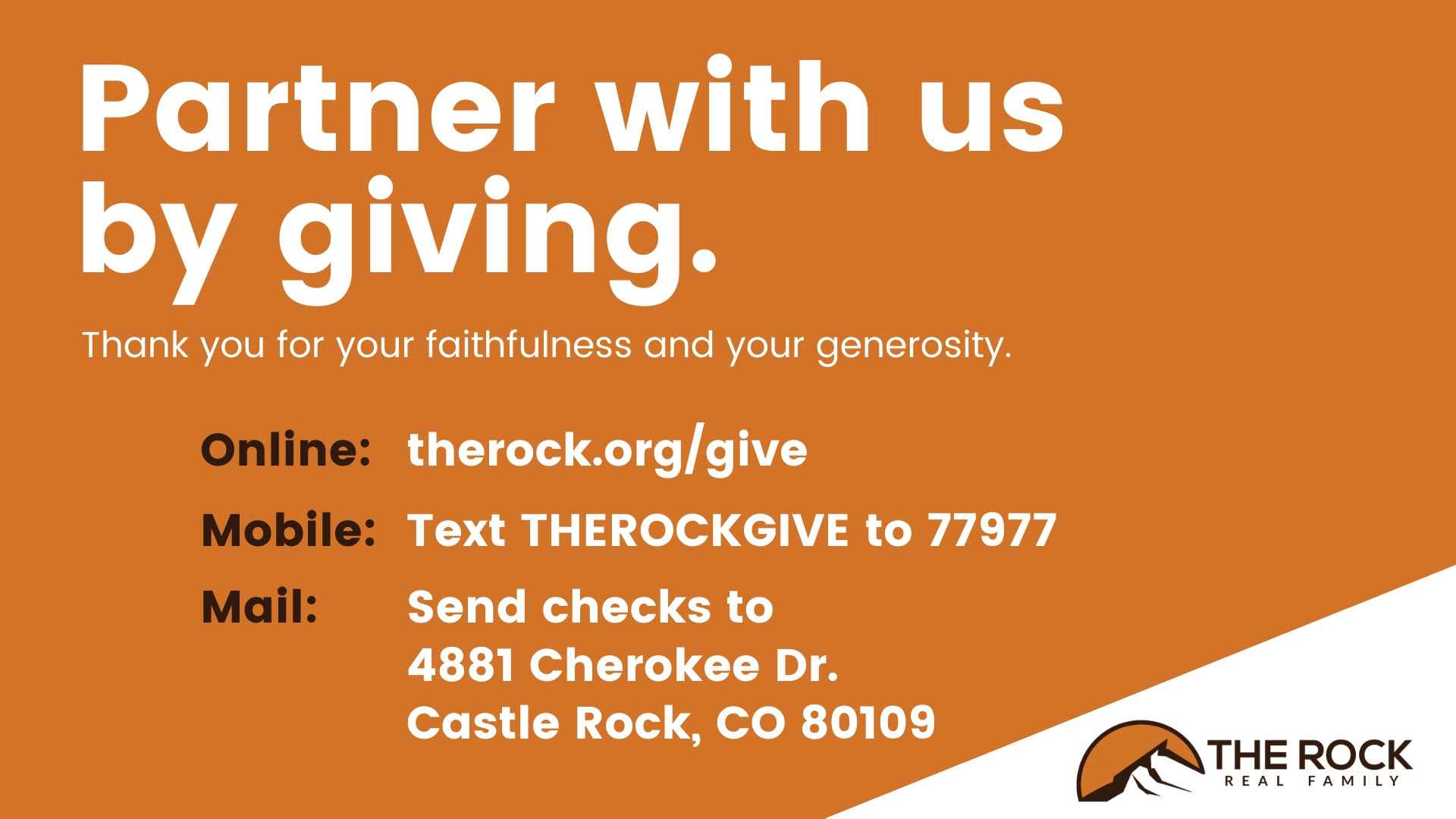 Need Prayer, Help, Feel Alone, or Disconnected?
Please email us at family@therock.org and put PRAYER, NEED HELP, or CONNECT ME at the top of your email.