Foolishness or Wisdom & Power
Hi Rock Family,
This Sunday we will have some amazing guest speakers Aaron Kolb, a missionary to Mexico who has started over 200 churches, and his son Brandon Kolb who is the pastor of City on the Hill church in Boulder.  We are in for a very special time.
We are also partnering with what looks like at least 10 churches in our region to go out after the service this Sunday and share the love of Jesus, preach the kingdom, heal the sick, and set captives free!  Don't worry if you have never done this before, there are many who have and we will partner together.  This is part of the adventure as we are led by the Spirit!  We will also have "blessing" bags of food and drinks and coffee to give away.  And we just received 6 pallets of Gerber Fruit & Yogurt squeezable pouches for toddlers or adults. 🙂
Spring is the time when kings go to war!  We spoke on this last Sunday in preparation for what the Lord is leading us into.  If you missed this message, I would encourage you to watch it in preparation for this Sunday.  Sunday morning 05.16.21 – YouTube  We were never intended to be a 'church' that sits in a building and keeps the revelation of Jesus Christ, the message of the cross, inside the 4 walls.  We are called to be the ones who shine like stars in the universe and preach the gospel by holding out the word of life to all! (Phil 2:16)
As we preach this gospel, there are a few things I want to point out from 1 Corinthians 1 & 2.  First off, God is faithful to His promises! (1 Cor 1:9) His Word (the gospel) will not return void, but it will accomplish what God desires as we declare it! (Is 55:11)  We must anchor ourselves in His kingdom truths which will often fly in the face of the world's wisdom and understanding.   And so when we share Jesus with others, it may not be well received…and that's OK!   1 Cor 1:18 says, "For the message of the cross is foolishness to those who are perishing, but to us who are BEING saved, it is the POWER of God!"
What I love is that even though the message of Jesus is considered foolishness to the world, as we share this gospel truth, God backs it up with His POWER – through the Holy Spirit!  The Word says, "The foolishness of God is wiser than man's wisdom and the weakness of God is stronger than man's strength." (1 Cor 1:25)  and this is proceeded by the powerful statement that "Christ is the POWER and WISDOM of God!"
Paul also tells us multiple times that the gospel is not to be preached with words of human wisdom, but with the demonstration of power by the Spirit.  God's part is to demonstrate His Power by the Spirit when the gospel goes forth.  Our part is to preach the gospel!  Romans 10:14 says, "How can they hear without someone preaching to them?"   And then God looks at those who share the gospel and declares their feet as beautiful.  Let's have beautiful feet!  I want to encourage you to be bold and courageous in this new season, and to never shrink back is fear of what 'man' thinks.  We are going to war – as kings – under the authority of the King of kings!
And remember to keep the main thing the main thing – Jesus Christ!  He is the way, the truth, and the life and no one comes to the Father accept through Him! (Jn 14:6)  Don't get caught up in arguments or discussions based on human wisdom.  We are not 'selling' Jesus to anyone.  He will prove Himself with Power!   Just allow the Holy Spirit to lead you as you share Jesus and watch as His power works through you!
IMPORTANT SERVICE & WEEKLY INFORMATION:
WEDNESDAY NIGHT SERVICE (5/19)   6:45pm  * In-Person & On-Line 
Facebook Live:  https://www.facebook.com/rockchurchco
The Rock Online Livestream:  https://www.therock.org/live/
YOUTH ~BASE CAMP (6th – 12th Grade) – WEDNESDAY NIGHT (5/19) – 7:00pm
Join us in the Student Auditorium!  Also, Summer Camp is July 22-24 and is open for registration!  CLICK HERE.   Contact Pastor Kristi at kristi@therock.org with any questions.
Thursday Evening (5/20) Hot Meals & Saturday Morning (5/22) Food Bank Distribution
https://www.therock.org/foodbank/
Email Lindy@therock.org if you have any questions or would like to volunteer.
SUNDAY MORNING (5/23) PRE-SERVICE PRAYER  8:15-9:15am – *In-Person & On-line*                  
ZOOM Direct Video Link:
https://us02web.zoom.us/j/85340164797?pwd=V0lmWFRRL0R6Tm56QTdRUHNoMWI3QT09
ZOOM Meeting ID: 853 4016 4797
Passcode: 1   (NOTE: The Passcode was added for security,
               but is not needed if you click on the ZOOM link above.)
               ZOOM Phone Option +12532158782,,85340164797#
SUNDAY MORNING SERVICE (5/23) 9:45am  *In-Person & On-line*
Facebook Live:  https://www.facebook.com/rockchurchco
The Rock Online Livestream:  https://www.therock.org/live/
May you shine like stars in the universe this Sunday as you hold out the word of life.  And may God work in you to will and act according to His good purpose!  (Philip 2:15,13)
We love you!
Pastors Mike & Kristi and your Rock Staff family
OPPORTUNITIES TO GIVE  If you would like to give to The Rock, here are some convenient ways you can partner with us as you practice generosity – our regular tithe/giving, COVID help, and our compassion/food bank.  Click on the following link or graphic.  www.therock.org/give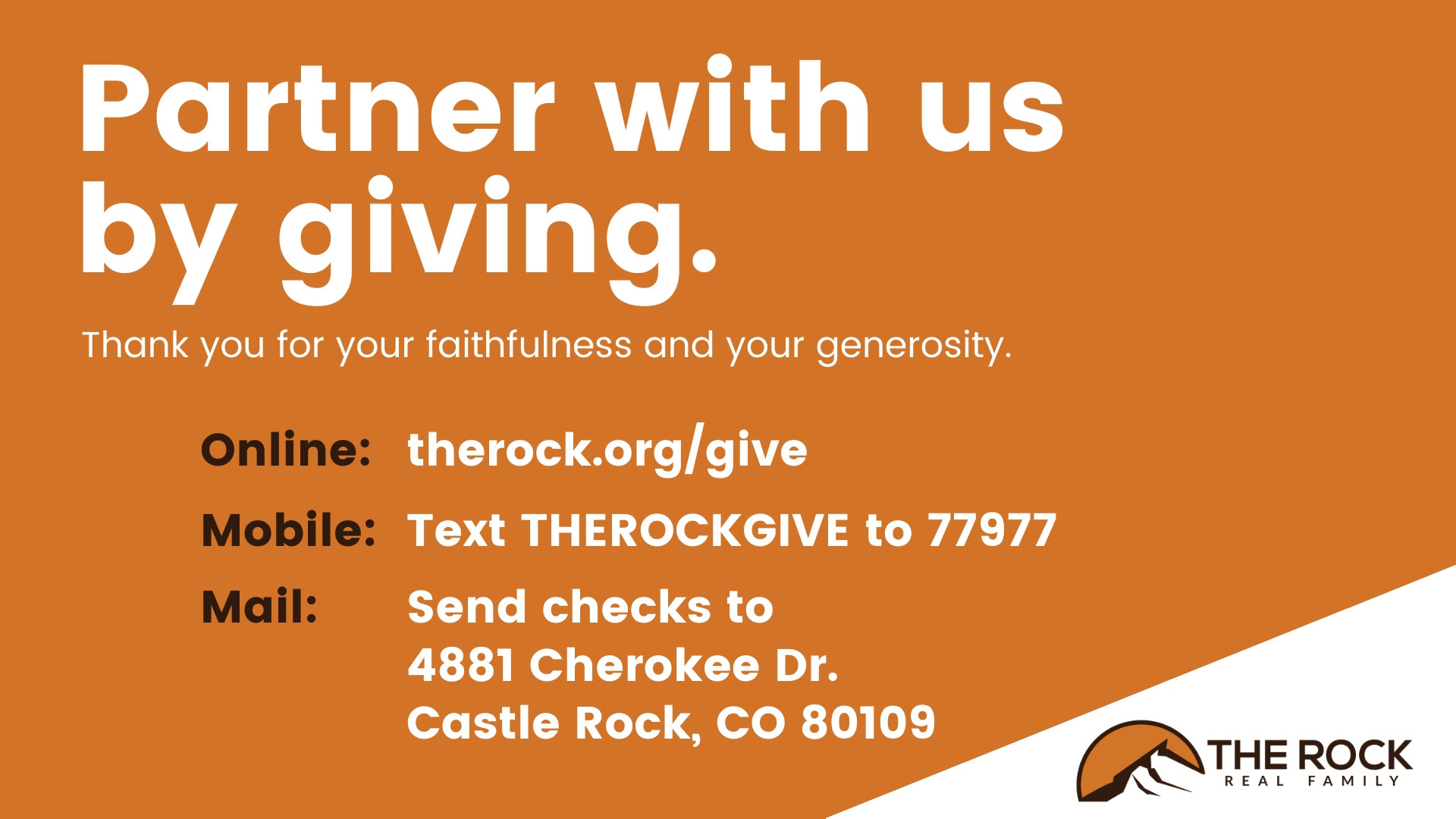 Need Prayer, Help, Feel Alone, or Disconnected?
Please email us at family@therock.org and put PRAYER, NEED HELP, or CONNECT ME at the top of your email.